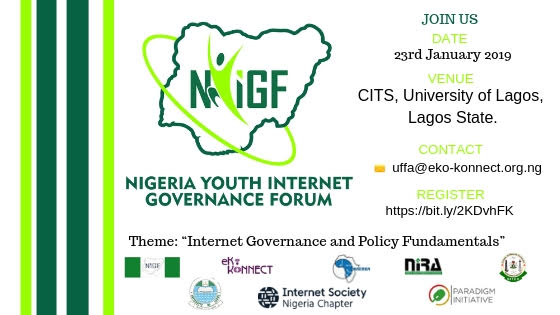 Eko-Konnect in collaboration with the Nigerian Internet Governance Forum (NIGF) and other Internet stakeholders in the Nigerian Internet ecosystem is hosting the 2019 Nigerian Youth Internet Governance Forum (NYIGF) themed, "Internet Governance and Policy Fundamentals".
The objective of the NYIGF is to interface Nigerian youth with stakeholders from the Nigerian internet ecosystem to discuss public policy issues related to key elements of Internet governance in order to foster the sustainability, robustness, security, stability and development of the Internet and also to enable Nigerian youths identify emerging internet related issues, bring them to the attention of the relevant bodies and the general public, and, where appropriate, make recommendations.
The event is scheduled to commence by 9:00 am on 23 January 2019 at the CITS, University of Lagos, Lagos State.
All young professionals and students in Nigerian institutions are invited to participate in this event.