TRAINING FOR SECONDARY SCHOOL GIRLS USING ROBOTICS:
Uninspiring computer science lessons makes it less likely for girls to embark on an ICT or computer science career. The increasing availability of robots as tools for young students to learn about programming and coding significantly broadens their perspectives of technology and careers; providing opportunities that promote collaboration, exploration, and the critical thinking that results in useful applications.
Eko-Konnect intends to use innovative ways to teach and encourage girls to take up computer science from a young age and use the program in more rural parts of Nigeria where lack of exposure and cultural norms have hindered the progress female education, especially in science and engineering.
Having started the 'adopt a bot' robotics and ICT training program for secondary school girls in Lagos, we are seeking to establish a national pilot where we reach girls in some under-served regions of Nigeria with the aim of showcasing and creating awareness in government to this method of instruction for ICT and computer in Nigerian secondary schools with a view to it wider adoption and ensuring that secondary schools girls are not only encouraged to learn programming skills but learn skills relevant to today's increasingly digitalised world.
Robotics as a tool for teaching ICT
Creating, developing computational thinking and the ability to personalize & customize applications to solve problems are much-needed skills. Students learn to write simple code that results in some output from a robot such as movement, sound and lighting; this makes computer science entertaining and engaging for girls because they learn by doing and fosters creative teamwork.
Established by ITU Resolution 70 and aimed at celebrating girls' interests, strengths to encourage them to pursue a career in ICT, the International Girls in ICT Day will be celebrated globally on the 25th of April 2013. In Lagos, Eko-Konnect institutions will join in with a maiden edition of "Girls in ICT Day"
Event Date and Time:
Thu, 25/04/2013 - 8:00am to 4:00pm
Location:
Centre for Information Technology and Systems, University of Lagos.
Eko-konnect joined International Telecommunication Union (ITU) to celebrate the International Girls in ICT day on Thursday, 26th April 2018. The event themed "Decoding my Future – The Code in my Future" was aimed at encouraging secondary school girls to pursue ICT related careers by exposing them to new trends in technologies that can be applied in various industry sectors. The event was held at the Department of Computer Science, University of Lagos.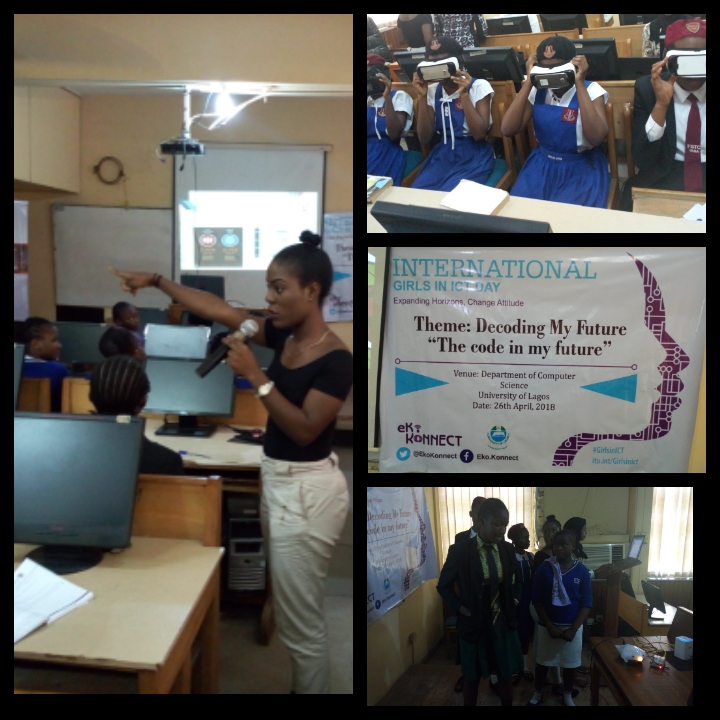 Eko-konnect joined International Telecommunication Union (ITU) to celebrate the International girls in ICT day on Thursday, 26th April 2018. The […]