Eko-konnect is delighted to be partnering with Jisc on The Digital University Africa project in Nigeria. As part of the project activities, two workshops will be held for policy leaders, senior academic management and academic staff responsible for digital teaching and learning, the opportunity to convene to share practice and learn about digital resources available from Jisc and Eko-Konnect to improve the digital capabilities of staff and students.
The British Council is funding these workshops as part of a series of funded projects under The Digital University Africa. These projects will contribute to an analysis of the prevailing situation with regards to the adoption and adaptation of digital education in universities in Sub Saharan Africa.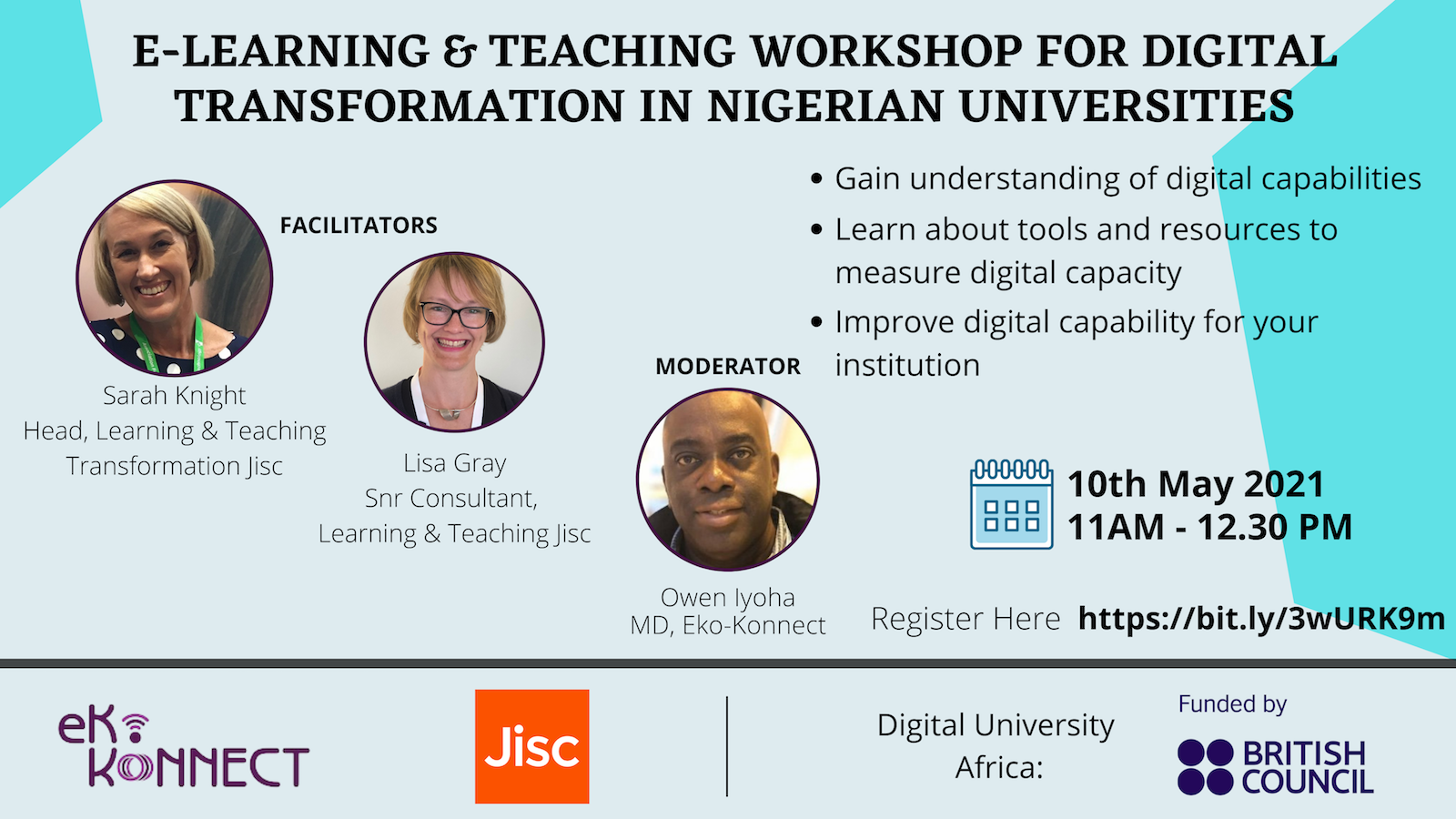 Workshop aims:
To develop a shared understanding of digital capabilities how that relates to your individual role/ organisational context
To understand the challenges and what is working well to date in developing a digitally capable organisation
To share approaches and resources from the UK context with colleagues to facilitate the sharing of practice between the UK and Nigeria
To support the development of your own digital confidence and capability to inform your practice moving forward
To identify further areas for collaboration and deliver recommendations to the British Council, Jisc and Eko-Konnect
Facilitators:
Sarah Knight (Head, Learning & Teaching Transformation JISC)
Sarah is Head of Learning and teaching transformation at Jisc. Sarah manages the teams supporting the Digital experience insights service digitalinsights.jisc.ac.uk which is researching staff and students' expectations and experiences of the digital environment and the team who are developing the Building digital capability service digitalcapability.jisc.ac.uk to support the development of staff and student digital capabilities.
Lisa Gray (Senior Consultant, Learning & Teaching JISC)
Lisa Gray is a Senior consultant learning and teaching in the higher education directorate at Jisc, providing leadership on the use of technology to enhance learning, teaching and assessment. For 15 years she has led a range of innovation and change programmes exploring enhancement in assessment, employability, e-portfolios and curriculum transformation; she has spoken and written about this work nationally and internationally.
Jisc provides digital solutions for UK education and research. Find out more about Jisc's work here.
You can register for the workshop here: https://bit.ly/3wURK9m