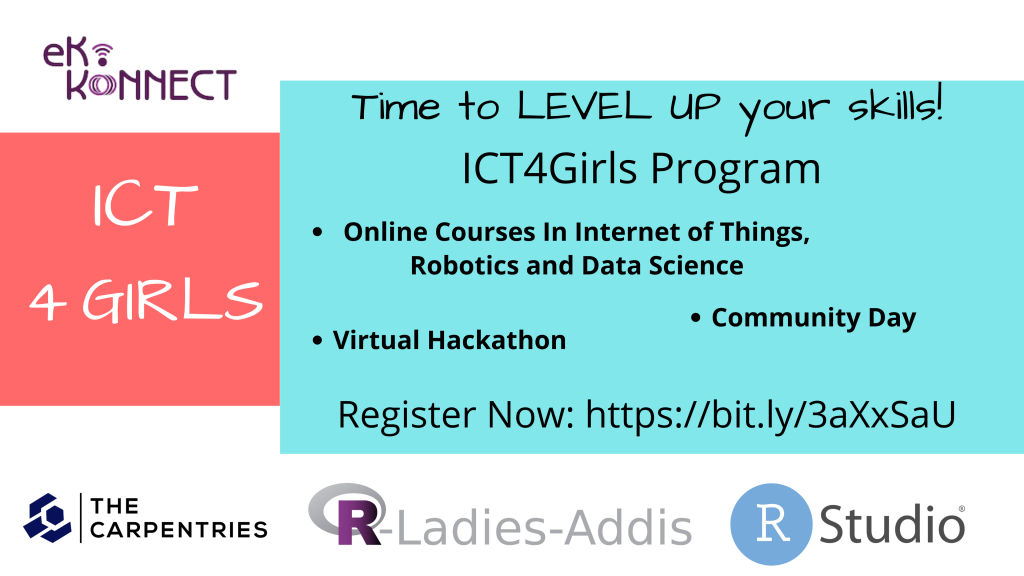 This year, as part of its ICT4Girls program, the Eko-Konnect Research and Education Initiative is offering activities that include online courses for women to gain hands-on skills in physical computing and data analysis, a virtual hackathon to exploit what they learn and a conference to build community and promote innovation in tech.
"Physical Computing with Python"
Participants will learn how to create a program in Python that interacts with embedded systems such as the Raspberry Pi, Sensors, and other external components. At the end of the course, there is a capstone project for a more advanced physical computing experience where participants learn to build a moving robot from scratch. 
Duration: 5 weeks
Start date: September 28
"Data Science with R' 
The follow-on course in collaboration with The Carpentries, RStudio and R-Ladies-Addis complements the Python course and introduces participants to data analysis techniques and how to draw meaningful insights to solve real-life problems.
Duration: 3 weeks
Start date: November 2
The courses are self-paced and enhanced with moderated discussion forums and video conferencing for a seamless learning experience. Participants will receive a certificate at the end of their course.
Virtual Hackathon
On completion of the course, groups of learners will compete in a virtual hackathon to build applications that leverage artificial intelligence and IoT.
ICT4Girls Community Day. 
Learners will join other women in a virtual conference with motivational speakers leading discussions on innovating with trending technologies and presenters sharing use cases.
Target Audience
Female students, researchers, academic staff, and female professionals in STEM-related fields or other disciplines with good computer skills and interest in smart systems.
To participate you will need;
to dedicate at least 5 hours per week to study course materials
an internet-enabled computing device
good Internet connectivity
Course registration deadline: 15th September 2020
Register here: https://bit.ly/3ljtZlf