In a drive to promote Open Science for improved research practice and scholarly communications and output, Eko-Konnect Research and Education Initiative and the Open Access 2020 initiative in collaboration with the CVCNU Secretariat convened a one-day Open Science Engagement Workshop for Vice-Chancellors held at the CVCNU Secretariat, Abuja on Tuesday 12th September 2023.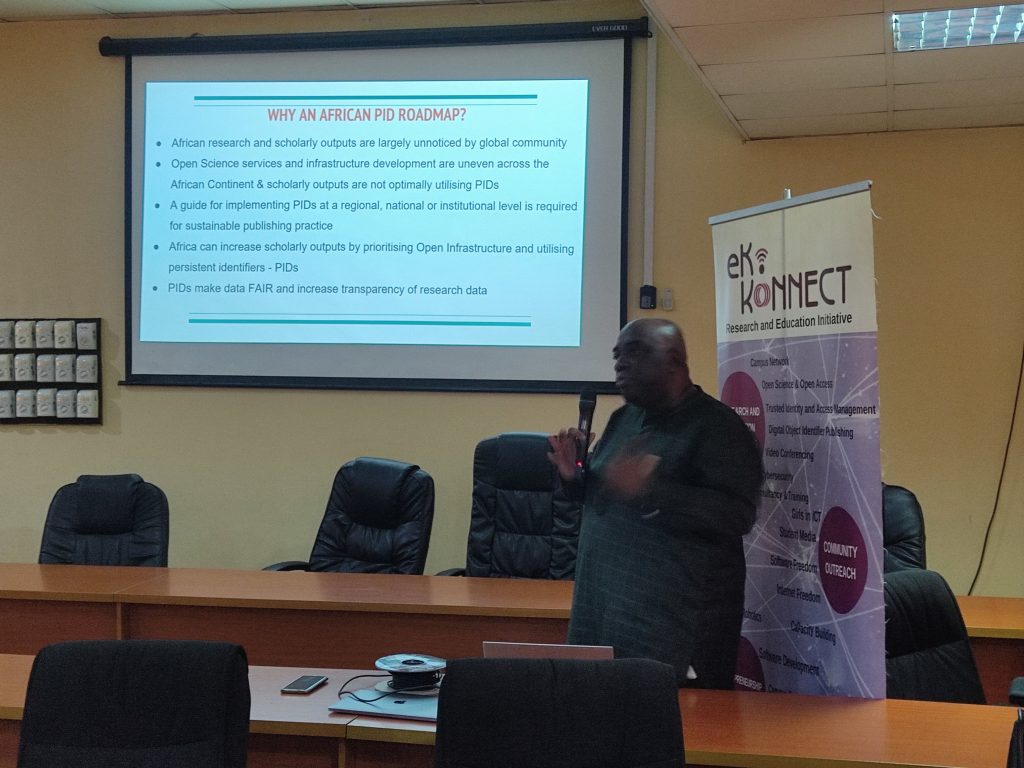 The workshop discussed the value proposition, infrastructure requirements, and possible business models that could be adopted for implementing Open Science (Open Humanities) and Open Access in Nigerian universities. The Vice-Chancellors gained an understanding of the potential value and business benefits of Open Science and Open Access if appropriate policies and actions are implemented.
The workshop was a prelude to the LIBSENSE Open Science Symposium that took place on the subsequent 2 days (13 and 14 September 2023) covering more Open Science advocacy and practice for University Librarians (AULNU) and Directors of ICT (dICT) among other stakeholders.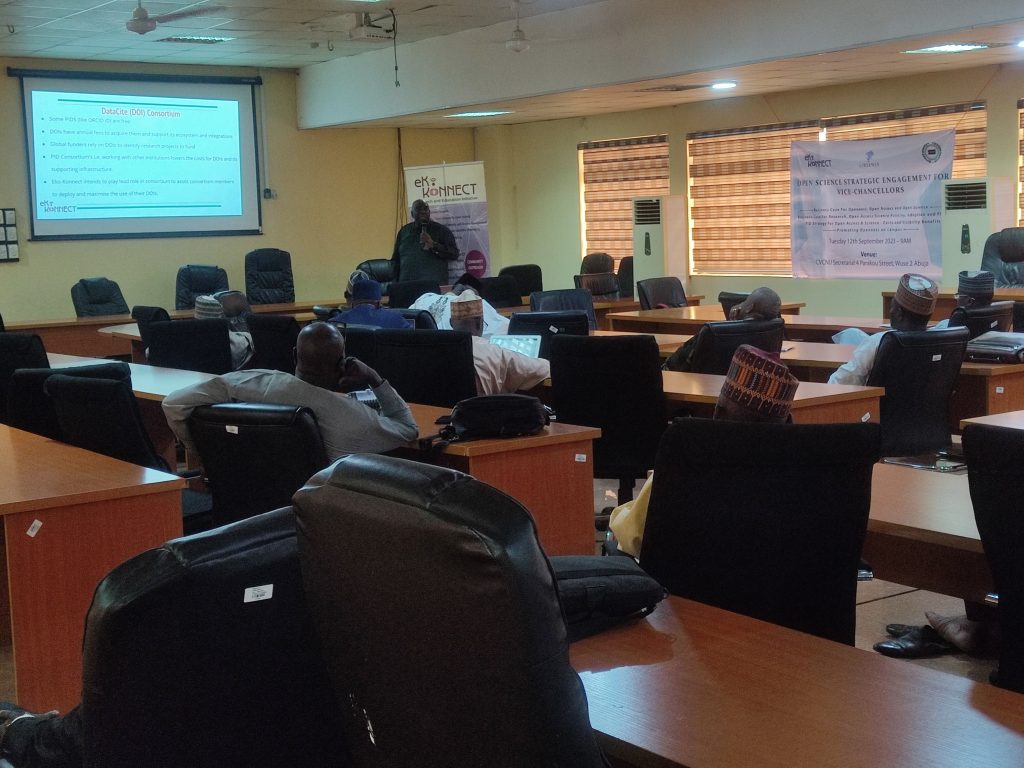 The opening remarks were given by Mr Peter Awoliyi, the Deputy Secretary General of the CVCNU representing Prof. Yakubu Ochefu, the Secretary General of the CVNU. Fifteen Vice-Chancellors (or their representatives) attended the meeting. Prof. Conrad A. Omonhinmin the National Contact Person for Open Access 2020 Global Initiative delivered a presentation on The Business Case of Openness, Open Access, and Open Science while Mr Owen Iyoha, the CEO of Eko-Konnect Research and Education Initiative, made a presentation titled: PID Strategy for Open Science – Costs and Visibility Benefits.
The presentations and the subsequent interactive discussions covered the following areas:
The business case for Open Research openness in research and research communication, and the adoption of relevant policies by institutions to promote openness and adoption.
The importance and indicative costs and benefits of a Persistent Identifiers (PID) strategy adoption for Open Access and Open Science.
The need to establish a consortium to strengthen collaborations and visibility among, Nigerian institutions to evolve a strong negotiation ability and leverage economies of scale to acquire licences or infrastructure to support Open Science that requires financial costs.
Signing the Expression of Interest in the consortium initiative is the first step and afterwards the post-workshop roadmap.
At the end of deliberations, there was unanimous agreement amongst participating Vice-Chancellors to determine the immediate next steps and define a roadmap to implementing Open Access and Open Science across our campuses and beyond.
Consortium for Nigerian VCs is a more detailed document on the ideals of openness in higher education research that was agreed upon and includes a suggested open science roadmap for implementation.
Expression of Interest for Open Access and Open Science for VCs of Nigerian Universities: Other institutions not in attendance and may be interested in being part of this initial open science consortium can express their interest using this form.